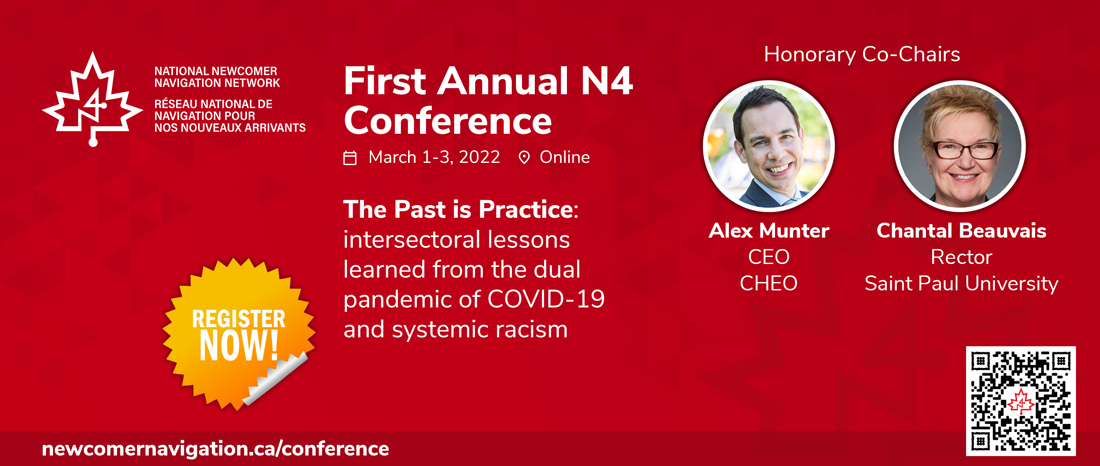 Save your spot – registration for the National Newcomer Navigation Network (N4) virtual conference, March 1-3, is now open! Registration is free thanks to the generous support of Immigration, Refugees, and Citizenship Canada (IRCC).
Are you a newcomer-serving professional? Then this conference is for you! Join us for:
Best practices that organizations and individuals can adopt to support newcomer clients
Lasting partnerships with other newcomer-serving colleagues and organizations
Strategies on how equity can be embedded in service delivery
Resources and tools specific to newcomers to Canada
The theme for our inaugural conference is The Past is Practice: intersectoral lessons learned from the dual pandemics of COVID-19 and systemic racism.
Agenda/Program
Our co-chairs for this year's conference are Chantal Beauvais, Rector of Saint Paul University and Alex Munter, President and CEO of CHEO.
Take a look at the speakers and workshops that we've curated, and check back often to see what else we have planned. We look forward to connecting with you in March!
Questions? Reach out to our Conference Project Coordinator.
Be sure to also sign up for N4 membership to connect with other professionals and access free educational tools and resources!