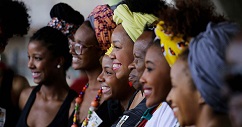 Recorded on Feb 24, 2021 · English · 1 hour · Free
Extra resources1
1 Exclusive to N4 members | Not a member yet? Join us, it's easy and free!
Black History Month commemorates the rich heritage of a variety of cultures that span the globe: from the sub-Saharan African and Sahelean cultures, through Europe and the Americas, to the island gems of the Antilles and extending across the Australian landscape. As we celebrate Black History Month we are mindful that when we say Black, we are referring to more than skin colours. Black goes deeper than that, and further than that. Join Dr. Dorothy Williams, a historian who specializes in Black Canadian history for a session that explores Black experiences in Healthcare.
You will learn:
Historical overview of health experiences in the black Canadian population.
Cultural health care disparities encountered among Canadians of black heritage.
Audience: Healthcare and settlement practitioners
Host
Mariah Maddock
Project Coordinator - National Newcomer Navigation Network - N4
Speaker
Dr. Dorothy Williams
Professor and historian renowned for her expertise in Black Canadian history