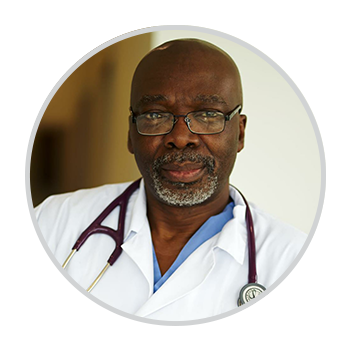 Dr. Samuel Ogbeide is the Physician Lead and Medical Director of the Kalyna Country Primary Care Network, serving the Central Zone region of Alberta. He is also the Director of Medical Services at the Erin Ridge Medical Clinic in St. Albert, and the Sunrise Medical Clinic in Killam, both in Alberta. He practices both urban and rural family medicine in these clinics, where he also has a sub interest in chronic pain and opioid use disorder management. Dr. Ogbeide is a Clinical Lecturer in Family Medicine at the Cummings School of Medicine at the University of Calgary and serves as an Assistant Clinical Professor in the Department of Family Medicine in the Faculty of Medicine & Dentistry at the University of Alberta, in Edmonton.
Dr. Ogbeide's path to medicine began far from Alberta. Born in Nigeria, he recalls a sense of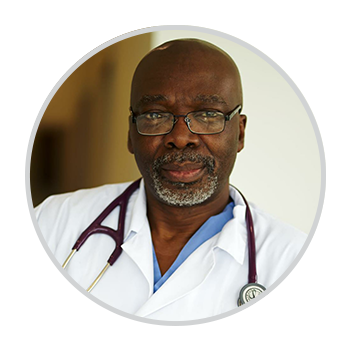 responsibility for his siblings. His mother was frequently ill, leading her to seek out the expertise of many different doctors – Dr. Ogbeide observed one of these doctors treat his mother so effectively, and with empathy, that he was inspired from that moment forward to pursue medicine.
Dr. Ogbeide's medical schooling and postgraduate training began in western Nigeria, at the University of Ibadan. He later worked in rural communities as part of the country's national service. He then proceeded to train as a general surgeon in the United Kingdom, where he received his surgical fellowship at the Royal College of Surgeons of Edinburgh. He is also experienced in trauma and emergency medicine. Dr. Ogbeide later obtained a Master of Surgical Sciences from University College London (UCL) where he specialized in liver transplant and advanced human anatomy. However, his passion for a holistic approach to medical care propelled him to further training in general practice/family medicine. He then immigrated to Canada in 1999, where he has since been practicing and teaching family medicine for the past two decades.
When asked about what motivates him about his work, Dr. Ogbeide reflects, "work for me is not work: it is something that I enjoy doing." He embraces many of the unique challenges that practicing medicine in a rural environment presents, including the ability to practice independently and to think innovatively in the face of limited resources. Dr. Ogbeide points to his surgical background as having made him well-suited for this environment.
In his capacity as an Assistant Clinical Professor at the University of Alberta, Dr. Ogbeide enjoys sharing his passion for rural medicine with the medical students, residents, and international medical graduates (IMGs)/internationally educated health professionals (IEHPs) that he teaches and mentors. He strongly believes that rural medical practice brings out the best of what a medical professional has in stock in terms of expertise and experience. "You have to be able to apply your clinical acumen to assess and make diagnoses when you don't have a CT scan, or an MRI scan, or an ultrasound...your clinical skills are most used when you're working in rural medicine," he adds. Dr. Ogbeide is also enthusiastic about sharing the opportunities for innovation and clinical research that are present in rural communities with the next generation of doctors.
"The landscape for recruitment in Canada has really changed, especially in the medical profession," says Dr. Ogbeide, when asked about his own experience as an IEHP in Canada. When he immigrated to Canada, he remembers it as significantly easier to have his medical credentials and training recognized. "Now, it's become more convoluted; it's a lot more difficult. The goal posts [requirements] keep changing," he reflects. He specifically points to English language proficiency requirements, the provincial and territorial differences in licensure, and the challenges of being accepted to a residency program as barriers that prevent many internationally educated physicians from practicing in Canada.
IEHPs frequently reach out to Dr. Ogbeide for career advice, including the prospects of beginning their Canadian careers in rural communities. "When I give advice, it's always based on not doing this as a means to an end; rather focus on what you really need. You always want to go to a place where you want to be of service and to be a part of that community."
To hear more from Dr. Ogbeide on rural health, newcomers, and IEHPs, watch N4's May 25, 2022 webinar, "IEHPs – How to Support Medical Needs of Newcomers in Rural Communities."