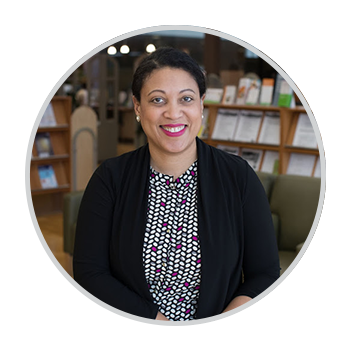 From the beginning of Lorraine's tenure at Holland Bloorview 21 years ago, she applied a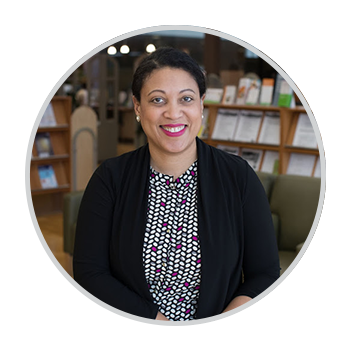 diversity, equity, and inclusion lens to the diverse field of communication, even before she had labeled these values. "Understanding cultural context within personal and professional relationships and how one expresses oneself, has always fascinated me. Incidentally, one of my identities is as a hard of hearing/deaf person, so there is also the aspect of communication from a sensory perspective and the framing of disability and ableism."
Over the years, with the recognition of the increasing diversity of Holland Bloorview families, which included newcomers, Lorraine became aware of how communication exists in a cultural context, and how this can impact patient care. "I originally worked in therapeutic recreation where I coordinated programming in multi-sensory environments (MSEs) or Snoezelen rooms. Many of my clients were non-verbal, so facilitating a Snoezelen session was very intuitive - it's all about paying attention to a user's body language and understanding what it is they're trying to communicate and modifying that environment to best meet their needs. Additionally, the concept of Snoezelen is very Western/European, so you need to tailor communicating what is a MSE experience to families of different backgrounds. Depending on their cultural context, the notion of doing a sensory-based relaxation activity seems counter-intuitive to active therapeutic intervention."
This experience led to Lorraine's passion for health literacy, and she served as Holland Bloorview's lead for health literacy for over a decade. In this role, she was responsible for developing an organizational framework to create accessible plain language documents for clients and families via trained family and youth reviewers sourced through the hospital's family leadership program. Lorraine reflects that this work, "really opened up the conversation around how we talk with and engage families and clients, and the importance of providing health information in a way that is accessible to all."
Lorraine sees the COVID-19 pandemic as having called attention to the importance of health literacy in two ways. Firstly, healthcare professionals and systems developed a greater understanding of the importance of finding an effective way to educate the public about their own health. Increased understanding that health literacy and health equity are closely connected, and can impact one another, has also emerged in the wake of the pandemic.
Secondly, Lorraine saw firsthand how, "the COVID-19 pandemic clearly delineated the haves and have nots. It made all of us redefine our roles, specifically from a health equity perspective." Lorraine cites digital inequity as a primary example of this – the pandemic required many one-on-one sessions with patients and families to switch to virtual care. For families without access to stable internet or a private space in their home, this was a barrier. Additionally, in-person interactions allow providers to more easily identify when information is not communicated effectively due to language barriers, based on body language or the ability to physically demonstrate something (e.g., via a teach-back method). Virtual care makes this significantly more challenging. At the same time, Lorraine recalls families who were relieved about the switch to virtual care, as it reduced the burden around childcare and transportation costs to attend workshops.
As one of their responses to the need to address existing health inequities which were amplified by the pandemic, and which fell under the IDEA portfolio, Holland Bloorview launched a social needs screening tool for clinicians to better understand how they can support families. The evidence-based 10 question tool, which was adapted by Holland Bloorview with permission from a U.S. based health equity institute, is geared towards helping hospitals better understand how various clients/families and populations are adversely impacted by the social determinants of health, including experiencing housing insecurity, food insecurity, and lack of childcare.
The Social Needs Screening Tool was launched in 2021. As of November 2022, it has since spread to 10 inpatient and outpatient clinical programs. Families attending the clinic can be referred to internal hospital supports (such as the Family Support Fund or Pro Bono Legal Services), and/or relevant community services. 60% of families screened identified at least one urgent and unmet socio-economic need, and 72% felt their unmet needs were urgent.
Asked about how participation in the N4-Saint Paul University Newcomer Navigation Online Program during the start of the COVID-19 pandemic in 2020 has impacted her work, Lorraine reflects that the program came at the perfect time. "The variety of theoretical, ethics-based, reflective practice and mentorship courses helped me to synthesize my professional and lived experiences at that point in time in history. I know that the focus was on newcomer support, but it was also about confronting personal biases and upending that knowledge you might have had as a healthcare professional. You think you're doing the right thing but then you see what you can do better."