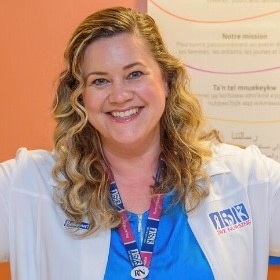 Background, profession, and newcomer involvement
Renette Amirault-Laing is among the first graduates of the N4-SPU online program. She shares her perspective from the healthcare sector. Working as a nurse for the last 24 years, she has seen an influx of newcomers during her time at IWK Health Center in Halifax over the last 15 years. This center streamlines two types of service in particular: children and women's health. The increase in cultural and linguistic diversity in Halifax and throughout Canada has created the necessity for medical interpreters to accommodate patients. Being fluent in French as well as English, she often works with newcomers from Congo, Madagascar, France, and many other parts of the world. Her position as a bilingual nurse coordinator at the IWK serves families and individuals by providing medical interpretation, coordination of their care and facilitating translation services in all languages.
Discussing the N4-SPU program
One of her favourite aspects of the N4-SPU program was the coaching circles offered. They provided her with connections to other professional working students across disciplines, allowing them to discuss case studies and ways to approach challenges and successes in a respectful environment. This connection was not limited to the people in her geographic area, but rather, it included people working in newcomer navigation from all across Canada as they came together to share their experiences. Many had similar struggles and joys.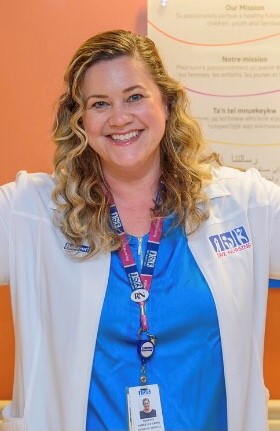 As she explained: "It was a place where you felt that you were confident, it was secure, and you felt that you could share your thoughts and deepest feelings. We got input from our peers which helped us to face our fears and challenges through learning about alternative perspectives. Having spaces like that and implementing it in a healthcare setting would be incredible, especially with trauma informed care. We do not debrief enough with regards to child abuse, or death, or sensitive issues like that. We do not give ourselves that time to grieve or to vent and talk about it. We go home with it, then we discuss with our spouses or swallow it and let it go." For Renette, the coaching circles were like a group therapy.
However, Renette points out a major challenge of the program: time-management. Renette, like many other students, works full-time and has family and obligations which, in addition to the N4-SPU program, can be hard to handle all at once. She advises those going into the program to be prepared to roll up your sleeves and commit to 12-15 hours of work a week. With the knowledge and skills you gain, the support you get from your teachers and the connections you make with others in the field, it is totally worth it.
Applying program elements to practice
Practical insights gained from the program have helped Renette develop a foundation for confidence to confront challenges. She hopes to brief her colleagues with the insights gained from the program to adapt learning practices to help healthcare workers and their patients alike. She additionally discussed the benefits of interpersonal communication development and theory to better direct and manage difficult conversations with patients, reading body language and identifying non-verbal cues.
As is the case with all the N4-SPU students, Renette was nominated by a member of her organization, and expresses her thanks to Tyro Setlhong, Diversity and Inclusion Coordinator at IWK Health Center, for providing her with the opportunity to participate in the N4 program.