The Canadians of African Descent Health Organization (CADHO) came into being during Black History Month of February 2020 with a diverse and dynamic inaugural Board of Directors, comprised of Professor Josephine Etowa, Dr. Bagnini Kohoun, Ms. Jane Odongo and Mr Akalewold Gebremeskel.
The mission and vision of CADHO are to improve African, Caribbean and Black (ACB) healthcare and health outcomes through transformation, equity, and community empowerment in Ottawa and beyond.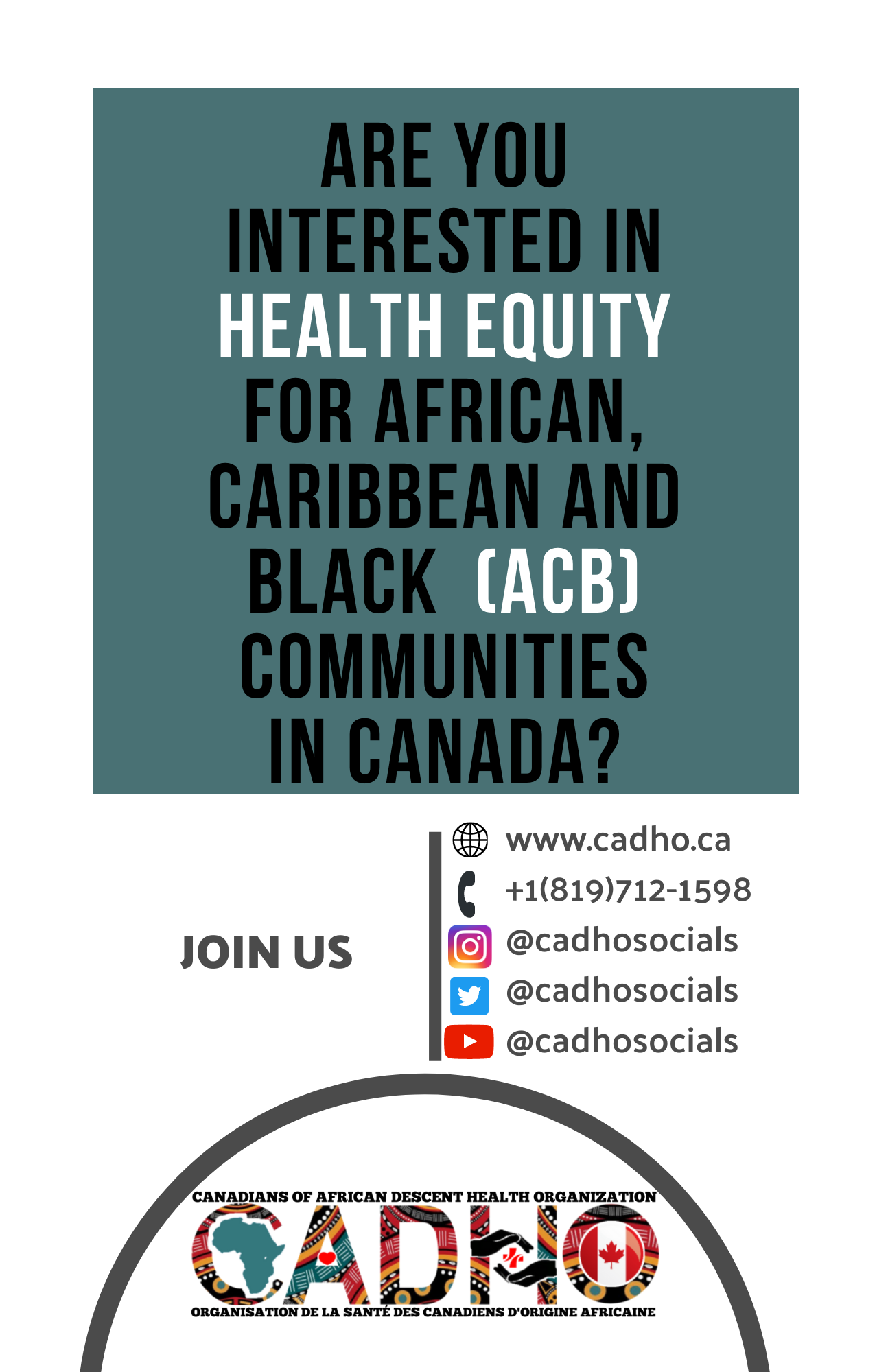 Since its creation, CADHO has effectively developed strategic partnerships with other Black leaders in the capital region to advocate for several changes that positively impact ACB health.
CADHO was a crucial partner in the activities that culminated in the Black Canadians Mental Health Day proclamation by the City of Ottawa on March 2, 2020.
The organization partnered with the Ottawa Black Mental Health Coalition to provide needed food relief to ACB community members during the COVID-19 crisis. The third in the series of food distribution in the National Capital Region took place in January 2022, where more than 300 households benefited from the distribution exercise.
CADHO is a critical partner in sharing information about the impact of COVID-19 in the Ottawa community. One of the hallmarks of its advocacy drive towards vaccine uptake and dissemination of important health news is the CADHO webinar series, supported by TD Bank.
The organization provides mentorship opportunities to community members through its partnership with the CO-CREATH lab at the University of Ottawa, where young scholars and newcomers to Canada benefit from the capacity building that paves the way for their professional success and social integration into the Canadian society. For example, some could build their research capacity and participate in peer-reviewed publications. In addition, the organization has several volunteers working in different capacities. These volunteers will have invaluable experience for their future life.
CADHO sits on the Ottawa Local Immigration Partnership program (OLIP) in the health sector. In addition, the organization is currently collaborating with researchers at the University of Ottawa to implement a more prominent Canadian Institute of Health Research (CIHR) funded study on ACB health and COVID-19. CADHO welcomes new members and partners to support their mission.