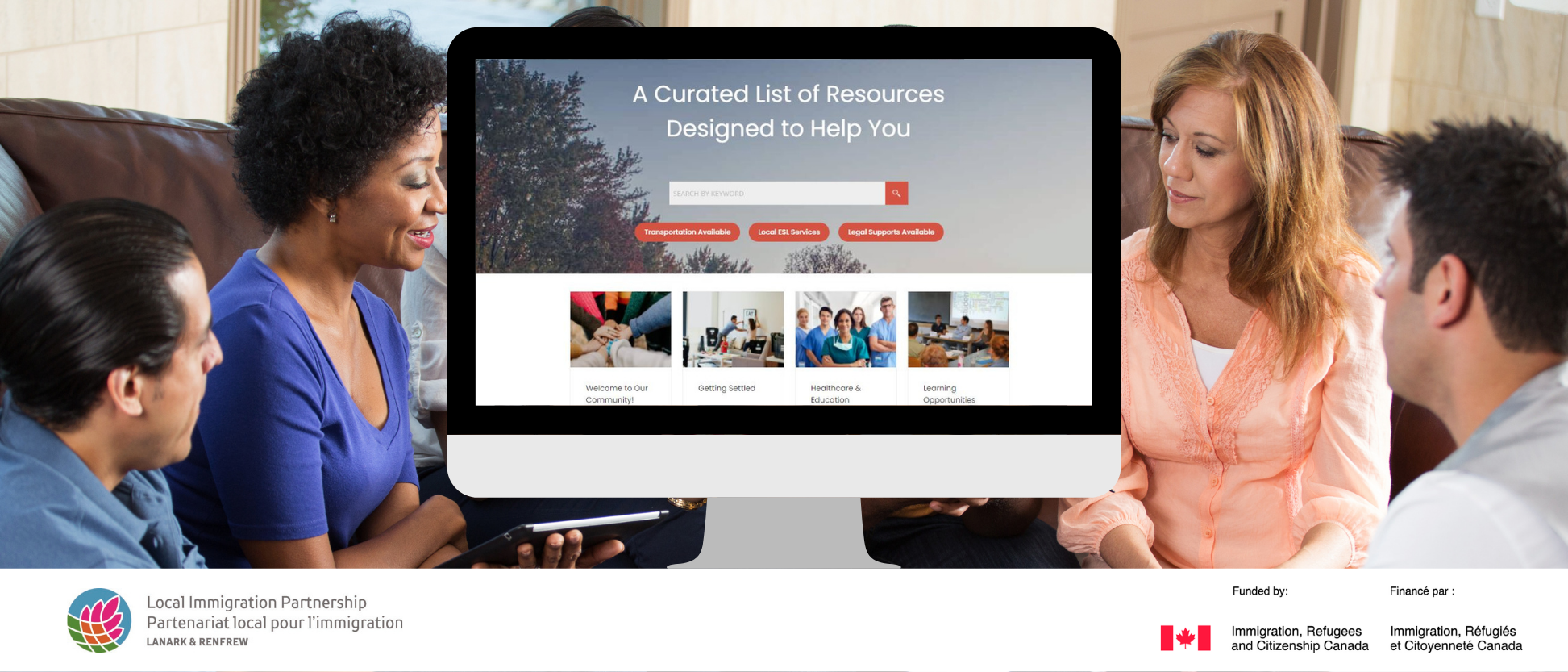 Local Immigration Partnership (LIP) – Lanark & Renfrew works to strengthen the role of local communities across Lanark County and Renfrew County in Ontario in integrating and serving its newcomer population.
Local Immigration Partnerships (LIP) are funded by Immigration, Refugees and Citizenship Canada (IRCC), a department of the Government of Canada, and support communities in bringing together service providers, settlement agencies, community groups, employers and other key municipal organizations to create a welcoming and inclusive community for newcomers.
The work of LIP – Lanark & Renfrew is administered by Algonquin College's Pembroke Campus. To enable this work, LIP – Lanark & Renfrew employees conduct research to identify the challenges that prevent newcomers from fully participating in the community's economic, social, cultural, and recreational life. The LIP – Lanark & Renfrew team also identifies new opportunities to help newcomers settle in rural areas.
Welcoming communities are created by helping municipalities and communities better understand the benefits of newcomer attraction and assisting them with planning and executing activities that support the immigrants who settle in their communities.
The LIP – Lanark & Renfrew Welcoming Communities: No Wrong Door Strategic Plan for 2021-2025 represents the culmination of engagement and input by community members, stakeholders, and rights-based holders committed to fostering welcoming communities across Lanark and Renfrew Counties.
Through research, community consultation sessions, interviews and analysis, the team established four strategic priorities, each focusing on building positive experiences and continuing to create welcoming communities for everyone.
Creating Connections: Enhance links Between Stakeholders Working Toward Welcoming Communities.
Building Trust: Positive Attitudes Toward Immigrants, Cultural Diversity, and the Presence of Newcomers in the Community.
Employer Outreach & Support: Pro-Active and Reactive Approaches to Lessons Learned.
Community Integrated Learning: Foster a Two-Way Path for Newcomers and Community Members to Learn From One Another.
Critical issues such as skilled labour gaps are addressed through the LIP – Lanark & Renfrew Employer Outreach and Support working group.
LIP – Lanark & Renfrew recently hosted an employment networking webinar in partnership with ACCES Employment Pre-Arrival Service and CARE Centre for Internationally Educated Nurses (IENs) to bring together employers in Lanark and Renfrew Counties seeking to leverage Internationally Educated Healthcare Professionals (IEHPs) to close healthcare gaps across the region.
Thanks to the efforts of the LIP - Lanark & Renfrew's Creating Connections working group members and a partnership with the Human-Centred Design Lab, over 75 resource items have been curated with the new Newcomers website portal. It is designed to support newcomers from the moment they first land in Lanark or Renfrew County communities to the time they become Canadian citizens.
The Newcomers website portal has supporting content that falls under eight categories, including Welcome to Our Community, Getting Settled, Healthcare & Education, Learning Opportunities, Taking Care of Your Money, Keeping Your Home and Family Safe, Learn About Canada & Local Communities, and Becoming a Canadian Citizen.
The work of LIP - Lanark & Renfrew has the flexibility to pivot based on community needs and and global issues, including the recent partnership with Ukrainian Diaspora Support Canada, a new not-for-profit established to support those fleeing Ukraine who wish to relocate to Eastern Ontario. LIP – Lanark & Renfrew is helping to create community support networks in each of the communities across Lanark and Renfrew Counties who are willing to help with housing, employment, translation and interpretation, monetary and non-monetary donations, and more.
A vital principle of the work is developing relationships and links between like-minded organizations to encourage collaboration that builds on the strengths of multiple partners.
Visit LIP – Lanark & Renfrew online for more information and resources.