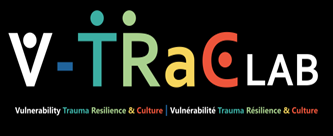 The Vulnerability, Trauma, Resilience and Culture Research Laboratory (V-TRaC) directed by Dr. Jude Mary Cénat is pursuing a research program in youth and adults. The V-TRaC lab has three main research axes: (1) Vulnerability and trauma, (2) Racial disparities in health and social services, (3) and Global mental health. Their research aims to develop culturally appropriate assessment, prevention, and intervention tools that meet the real needs of individuals and communities.
Jude Mary Cénat, Ms.C., Ph.D., C.Psych., is an Associate Professor in the School of Psychology, Chair of the Interdisciplinary Centre for Black Health, and Director of the Vulnerability, Trauma, Resilience & Culture (V-TRaC) Research Laboratory at the University of Ottawa. His research program explores factors associated with vulnerability,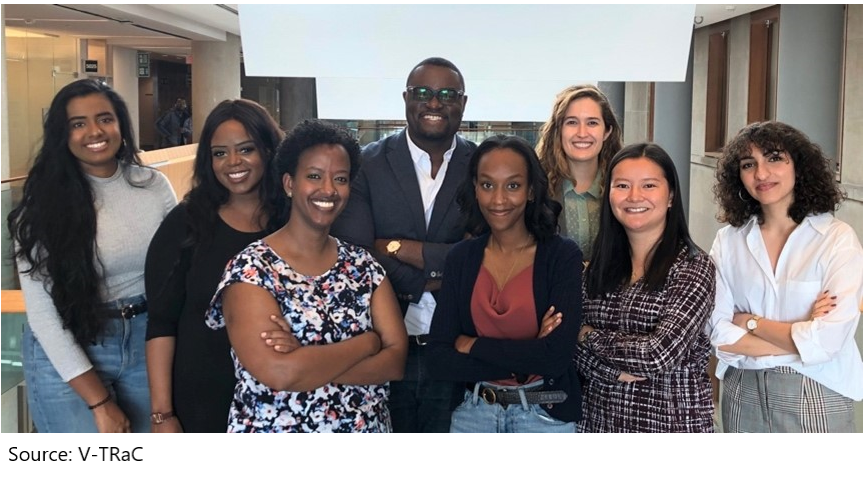 trauma, and resilience, with a particular interest in the role of cultural factors. Dr. Cénat conducts research on racial disparities in mental health and social services, the impact of natural disasters and infectious diseases on mental health, interpersonal and non- interpersonal trauma, and global mental health. He conducts research in North America, Europe, Africa, and the Caribbean. Dr. Cénat leads a major project on the mental health of Black communities in Canada that has allowed for the development of online trainings aiming to equip mental health professionals with the knowledge needed to provide culturally appropriate and anti-racist care. Dr. Cénat is a fellow of the Royal Society of Canada's College of New Scholars, Artists and Scientists.
Research axes
The V-TRaC laboratory works around three main research axes:
Vulnerability, trauma and resilience
Racial disparities in health and social services
Global mental health
Ongoing research projects
With an active multidisciplinary team of researchers, students, specialists and national and international partners supporting the laboratory, several research projects are initiated and ongoing within the V-TRaC research laboratory. These projects include:
Evaluation of Mental Health Problems among Immigrant Populations
Racial Disparities and Over-representation of Black Children and Adolescents in Child Welfare Services: Understanding for Better Action
Ebola Virus Disease in the DR Congo and Community Mental Health: Evaluation, Prevention, and Psychosocial Intervention
Study of Determinants of Mental Health Among Veterans
COVID-19 and vaccination in Black communities in Ontario and Quebec
COVID-19 and Preventive Attitudes: A Cross-Analysis of Risk and Protective Factors in Health Systems in Haiti, Democratic Republic of Congo, Rwanda, Togo, Bangladesh, and Pakistan
Mental Health of Black Communities in Canada: Evaluation, Prevention, and Intervention Tools
Health Communication, Sociocultural Diversity, and COVID-19
The available resources
Committed to the democratization of knowledge and the accessibility of resources, the V-TRaC laboratory provides a wide range of free resources available in French and English on its websites. These resources include:
Fact sheets: Some fact sheets summarize, for example, the overrepresentation of Black children in the child welfare system, racial disparities in child welfare services in Ontario, etc.
Website
In its approach focused on the development of culturally adapted assessment, prevention and intervention tools that respond to the real needs of individuals and communities, the V-TRaC laboratory also has a "Mental Health for Everyone" website that is entirely free and bilingual and available to all communities.
The website aims to achieve three objectives:
Better understanding mental health issues in Black communities
Educate, mobilize and raise awareness of mental health in Black and other racialized communities
Provide culturally and racially appropriate tools for mental health professionals
In its educational approach, the website of the laboratory team offers unique and unprecedented trainings:
The V-TRaC laboratory produces a podcast called Chatting in the City. This interactive podcast aims to build the capacity of youth, families, community leaders and associations to develop resilience and tailored coping strategies for Black communities. It is available on several platforms: Apple Podcasts, Spotify and on YouTube.
For any questions, you can contact the V-TRaC laboratory at vtrac@uottawa.ca.