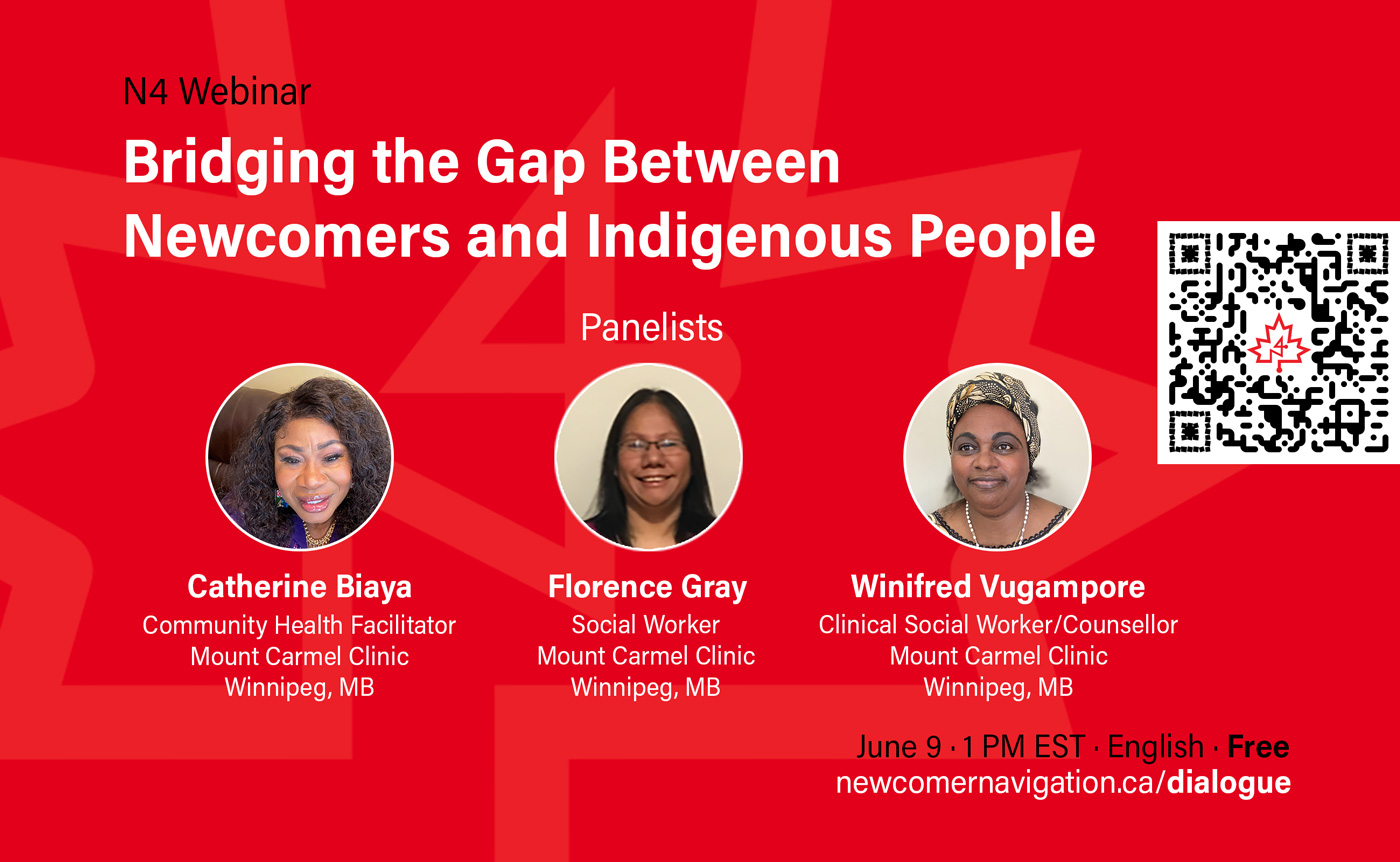 This webinar will highlight an innovative program at Mount Carmel Clinic that builds bridges, strengthens relationships and honors the uniqueness and commonalities between newcomer and Indigenous groups. Join us to learn how this program facilitates an inter-cultural dialogue to debunk certain myths and stereotypes about Indigenous and newcomer groups, and creates a safe space that values diversity, inclusion, mutual rapport and acceptance.
Learning objectives
Heighten awareness about collaboration between Indigenous and immigrant communities
Understand current issues for First Nations and immigrant communities
Develop strategies for future collaborative relationships between Indigenous people and newcomers
Learn the importance of creating a safe space to share cultures and remembering history
Audience
Newcomer-serving professionals in Health and Settlement sectors
Attendees will have the opportunity to participate in an audience-led question and answer period
About the speakers
Catherine Biaya: I am originally from the Democratic Republic of Congo and arrived in October 2007 as a Government Sponsor Refugee. I am a graduate in Community Development/Community Economic at the Red River. I am working at Mount Carmel Clinic as a Community Health Facilitator within the Community Wellness Program, a Program funded by IRCC in order to help new comer's Permanent resident living in North End Point Douglas settle in a new society. In partnership with Strengthening Families another program within MCC and the Indigenous Social worker, facilitate the inter-cultural dialogue to bridge the gap between new comers and Indigenous to prevent stereotyping and build strong and trusted relationship.
Florence Gray: I am originally from Ontario and I am Ojibway from Lac Seul First Nations. I am a single mother of three children. My parents had nine children and all of us went to residential school except for my younger sister. I learned about residential school when I went to Urban Circle Training Centre and completed the Teacher's Assistant pilot project that only started with five Indigenous students. I struggled going to University of Winnipeg in 2005 and flunked out in 2008. With the encouragement of my boss I applied to the University of Manitoba's Bachelor of Social Work program in 2010 and graduated in 2015. I know that education is important and have encouraged all my children to go to school. I am a proud mother of two high school graduates. My son graduated from high school in 2018, my oldest daughter in 2020 and my youngest daughter is in grade 7.
Winifred Vugampore is a Clinical Social worker/Counsellor at Mount Carmel Clinic. With her work, she contributes to the Canadians and newcomer immigrants' well-being by providing Crisis Counselling, wellness groups' workshops and advocacy. Winifred Vugampore helped many newcomer immigrants' families to successfully integrate in Canada by providing educational services related to parenting, and parenting laws in Canada, cultural adaptation, coping with stress associated with pre- migration, migration and post- migration experiences of Newcomer immigrants, especially those coming from war- torn countries. Winifred vugampore holds a Master's degree in Community Development Studies from University of Kwa Zulu-Natal (South Africa) and a Master's degree of Social Work from University of Manitoba.