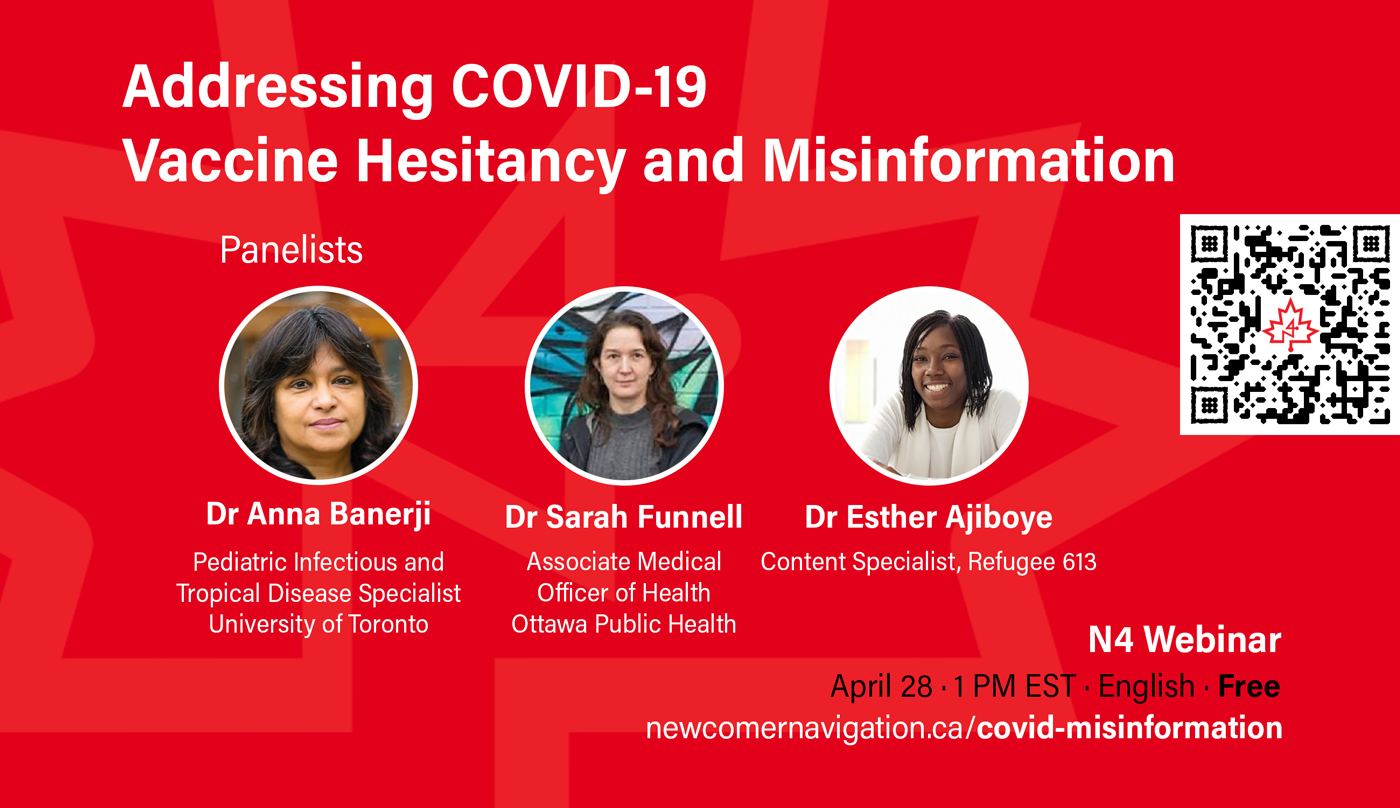 Register now! newcomernavigation.ca/covid-misinformation
As of late 2020/early 2021, COVID-19 vaccines are being distributed to the global population, beginning the climb out of this pandemic. However, a subset of vaccine misinformation can be found circulating on certain social media platforms and to some extent physically to the public. This can put the most vulnerable including newcomers at great risk of the health consequences of the virus. This webinar panel will provide in-depth discussion about vaccine hesitancy, addressing vaccine misinformation and strategies that can support newcomers and others in accessing facts for a better understanding of the various COVID-19 vaccines available across Canada.
Learning objectives:

Gain a better understanding of the types of vaccine hesitancy
Learn about successful strategies for addressing covid-19 vaccine hesitancy and misinformation

Audience: Newcomer-Serving Professionals in Health and Settlement Sector
Speakers

Dr. Anna Banerji
Pediatric Infectious and Tropical Disease Specialist, University of Toronto
Dr. Anna Banerji is an associate professor in pediatrics at the Temerty Faculty of Medicine, and at the Dalla Lana School of Public Health and is a pediatric infectious and tropical disease specialist. She graduated from medical school at U of T and trained at Ottawa University (pediatrics), McGill University (infectious disease and tropical medicine). She received an MPH in International Health from Harvard School of Public Health where she was selected "promising graduate" for the class of 2003. She uses a human rights framework for her work, research and education and is an advocate for both Indigenous and refugee populations.
Dr. Banerji has been working with refugees for most of her career. She founded the Canadian Refugee Health Conference in 2009 and is the co-founder of the North American Refugee Health Conference (NARHC) which she chairs in alternative years in Toronto. She is also the co-founder and president of the North American Society of Refugee Healthcare Providers. In 2014 she created the COSTI Pediatric Clinic where she screens most of the government assisted refugee (GARS) children coming to Toronto. In 2016 she set up a clinic at a hotel in response to the mass resettlement of Syrian refugees and screened over 700 Syrian refugee children.
In 2014 Dr. Banerji created the inaugural Indigenous Health Conference which she continues to co-chair. She has travelled to numerous Indigenous communities across Canada in various capacities and has been to the Arctic over 50 times. Her research on lower respiratory infections in Inuit children has spanned over 25 years and has resulted in changes to the national guidelines for the prevention of RSV. Recently Dr. Banerji has been successful in advocating for more resources for Indigenous communities to fight COVID-19 through petitions.
Dr. Banerji has travelled extensively around the world including work in Haiti after the earthquake with the Canadian Red Cross. She has given hundreds of media interviews and invited lectures mostly advocating for health equity. She has won several awards including the Order of Ontario in 2012, and in 2019 she was the recipient of the Dr. Peter Henderson Bryce Award for her advocacy with Indigenous children.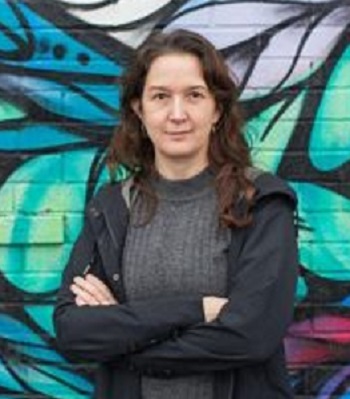 Dr. Sarah Funnell
Associate Medical Officer of Health, Ottawa Public Health
Dr. Sarah Minwanimad Funnell is a First Nations Family Physician and Public Health Specialist. Sarah is an Associate Medical Officer of Health at Ottawa Public Health and Director of Indigenous Health within the Department of Family Medicine at Queen's University. Previously Sarah offered Primary Care services for refugees, immigrants, homeless and Indigenous people. Since March 2020, Sarah has directed her attention towards supporting the COVID-19 response and advancing Indigenous Health Medical Education.
After completing medical school at the University of Ottawa (U of O), Dr. Funnell pursued her dual interests in family medicine and epidemiology through the five-year Public Health and Preventive Medicine Residency Program at U of O. She received her Certification in the College of Family Physicians of Canada (CCFP) in 2015.
Her background is Algonquin and Tuscarora and grew up among the Mississaugas of Alderville First Nation. Sarah is on the Board of Directors of both the Indigenous Physicians Association of Canada and the Board of Directors of the College of Family Physicians of Canada. Sarah is co-Chair of the Indigenous Health Committee at the CFPC and also sits on the Indigenous Health Advisory Committee at the Royal College. She is currently working with both colleges to improve Indigenous Health Curriculum in all residency programs. She is lives in Ottawa with her husband and 3 daughters. In her spare time she speaks to her plants.
Dr. Esther Ajiboye
Content Specialist, Refugee 613
Dr. Esther Ajiboye is a communications professional with over a decade's experience facilitating audience-specific communications for diverse groups and individuals. She firmly believes that language is a powerful resource for inclusion, social cohesion, social organization, and social transformation; this is the crux of her writings which appear in renowned language and communication journals, including Discourse and Society, Pragmatics and Society, and Journal of Asian and African Studies. She has taught language and communications strategies to university students and professionals in the service industry. She is a fellow of the American Council of Learned Societies (Awardee: African Humanities Program).
She currently works as a Content Specialist for the Newcomer Info Hub project at Refugee 613 where she produces trusted COVID-19 and newcomer-specific information in linguistically accessible and culturally relevant formats to effectively reach newcomer audiences.