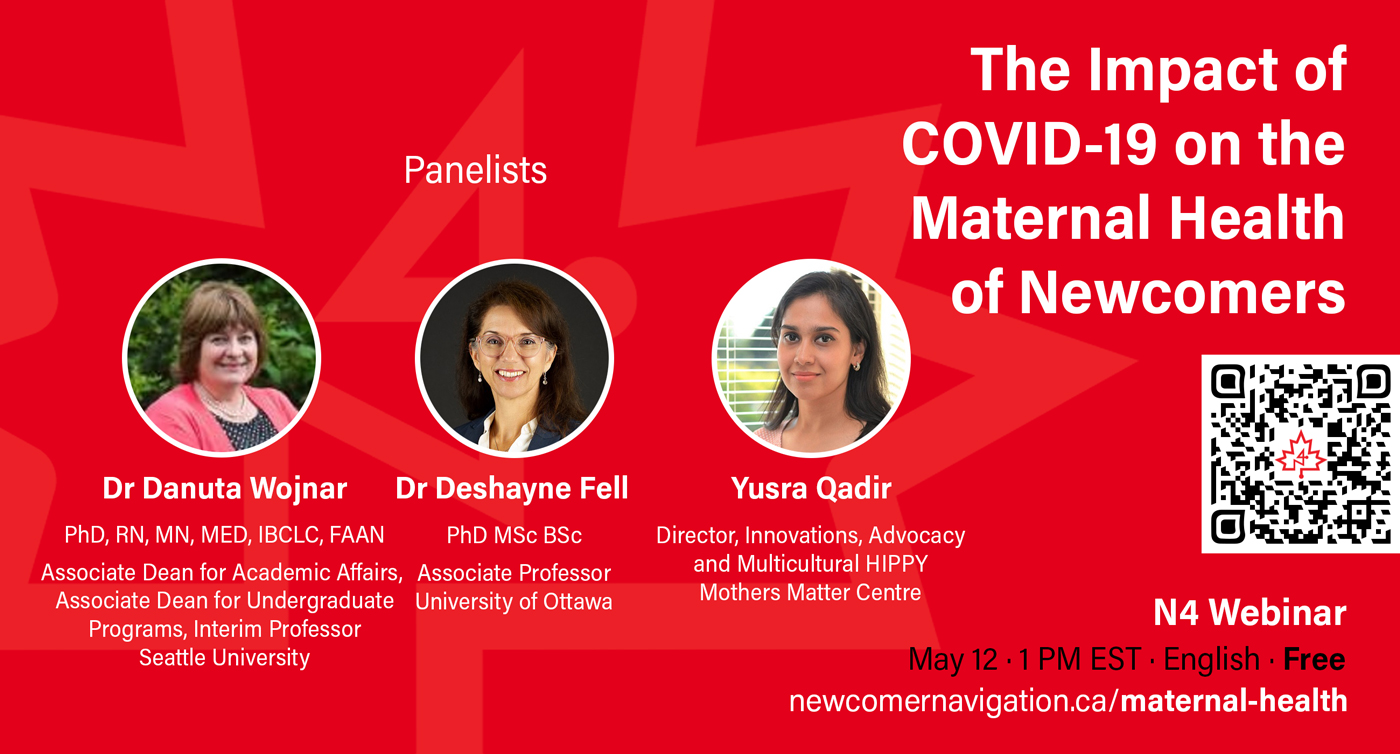 Register now! newcomernavigation.ca/maternal-health
COVID-19 has imposed major disruptions to maternal and child health services that have disproportionately impacted newcomer women and children. Join us for a panel discussion featuring diverse perspectives from across North America.
Learning objectives
How COVID-19 has exacerbated maternal health inequities for newcomer women and children
Some of the top challenges Newcomer women experience during labour and delivery
Examples of promising practices to support newcomer women during labour and delivery
Recommendations for advancing maternal health equity
Attendees will have the opportunity to participate in a moderated question and answer period.
Audience
Newcomer-serving professionals in Health and Settlement sectors
About the speakers
Dr Danuta M. Wojnar
As Associate Dean for Academic Affairs and Associate Dean for Undergraduate Programs, Dr. Wojnar's research and profession strives towards excellence in nursing. Over the past decade, Dr. Wojnar has taught across the undergraduate and graduate curricula at Seattle University's College of Nursing (SU CON). Areas of expertise include reproductive health theory and clinical, human lactation, research methods, concepts and theories for advanced nursing practice, and Doctor of Nursing Practice (DNP) Capstone seminars. Danuta has also supervised numerous MSN theses and scholarly projects, DNP capstones, and was a supervisory committee member for PhD in Nursing Science dissertation research.
Dr. Wojnar's program of research centers in three key areas: 1) support of breastfeeding women through research and policy development; (2) culturally sensitive care to diverse populations, with special focus lesbian and other nontraditional families subsequent to unexpected pregnancy loss; and (3) application of theoretical frameworks to meet the healthcare needs of diverse populations in the United States.
Key research and nursing program activities on national level include service on the American Nurses Association Steering Committee to identify Barriers to RN Scope of Practice, American Academy of Nursing Expert Panel on RNs in Primary Care, Robert Wood Johnson Foundation Executive Nurse Fellows Leadership Action Project to identify the optimal roles for RNs in primary care settings, and service on the International Board of Lactation Consultant Examiners/ Lactation Education Review and Program Approval Committee. Key service to the College in recent years includes my work as the Chair of the Department of Maternal/ Child and Family Nursing (2010-2015), Chair of the Rank and Tenure Committee (2011-2015), and work on the CON Executive team (2010-present).