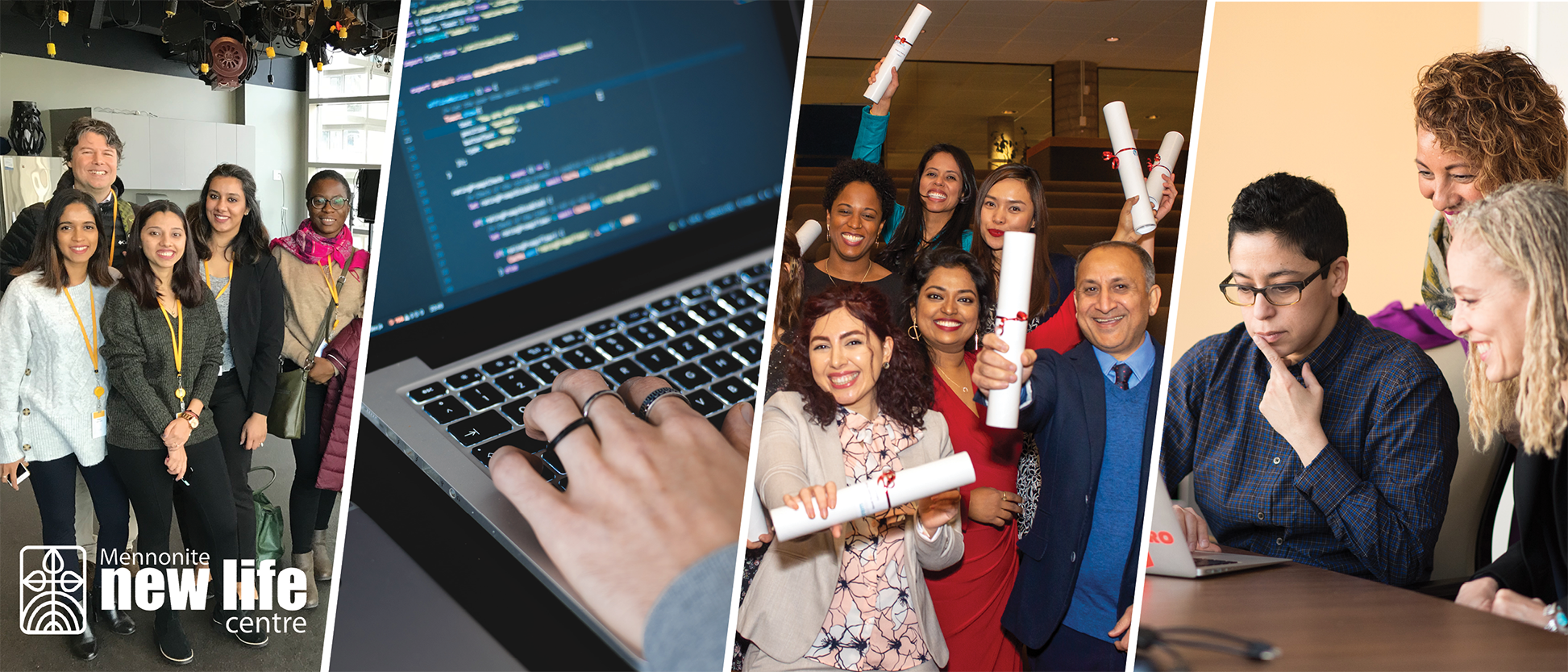 The Mennonite New Life Centre (MNLCT) is a community-based charitable organization. MNLCT envisions a society where all people from diverse backgrounds participate fully in all aspects of Canadian life.
MNLCT offers settlement support, English classes, mental health counselling, employment and entrepreneurship programming, and counter-human trafficking counselling.
Bridging Programs: an important tool for immigrant professionals to honour their existing education and experience while gaining an understanding of the local labour market. Since 2009, MNLCT has guided hundreds of immigrant professionals into meaningful employment or entrepreneurship, with more than 85% of bridging program graduates working in their chosen fields.
These programs offer newcomers an understanding of Canadian work culture and further training and education in the context of their respective professions. MNLCT works with employers, professional associations, universities, and regulatory bodies to offer specialized courses led by subject matter experts and to help newcomers secure a position that matches their education, credentials, and experience.
MNLCT's bridging program participants report expanded professional networks, improved subject matter expertise and communication skills, and increased confidence in applying for jobs and attending interviews, all of which contribute to them achieving their career and life goals.
All four programs are available online across Ontario and have cohorts starting in Winter 2022.
Bridge to Employment in Services for Immigrant Populations (BESIP) [NEW!]
Bridge for Immigrant Women Reskilling into IT Coding Professions (C-Women) [NEW!]
Bridge to Employment in Media, Marketing, and Communications (BEMC)
Bridge to Registration and Employment in Mental Health (BREM)
She-Covery Response: Building Skills for Work: helps to transition racialized and marginalized women from unemployment or underemployment conditions into job market opportunities. Key services are mental health support, online courses for upgrading employability skills, and connections to Employment Ontario offices for individualized job search supports.
Helping Our Newcomers Prepare for Employment & Entrepreneurial Success (HOPES): supports participants with mental health barriers to employment or entrepreneurship. Participants receive mental health counselling, employment and entrepreneurship coaching to develop life and career or business plans, and connections with Employment Ontario, entrepreneur-specific organizations, and other resources to help them reach their goals.
MNLCT's services are currently available online, with limited in-person appointments available at MNLCT's North York, Ontario office. MNLCT can provide support in English, Arabic, Mandarin, and Spanish.
Visit MNLCT online or download their Newcomer Support App for more information and resources.