Professor
University of Toronto and Toronto Metropolitan University
Expertise: Global health, Capacity building, Public Health education and training, especially bridge training for IEHPs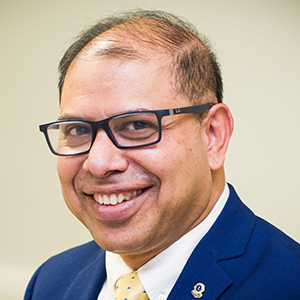 Dr. Shafi Bhuiyan PhD, MBBS, MPH, MBA is an award-winning faculty member and an internationally recognized–academic/professional leader in global health training, research and education initiatives, with diverse experience in both developed and developing countries. After finishing medical college in Dhaka, Bangladesh, he worked as the founding liaison of a maternal and child health research and training institute in Bangladesh where he focused on capacity building training of health professionals. Following completion of a PhD in human sciences, he worked as a JSPS Post-Doctoral scientist and faculty at Osaka University, Japan; ASEAN Institute of Health Development, Mahidol University Thailand; University of Health Sciences Bangladesh. In 2010 Dr. Bhuiyan emigrated to Canada where he began a new career focused on how equity-informed approaches can improve health services and health care training. Over the next several years Dr. Bhuiyan moved through successively more senior positions so that today he is a faculty member both at the Dalla Lana School of Public Health, University of Toronto and Toronto Metropolitan University.

Throughout his career his focus has been on improving the way we deploy and refine global health resources – whether guidelines or training programs – to improve health system performance and the equity of health system performance in local and global contexts. Dr. Bhuiyan a co-creator of Pilot Masters of Sciences - MScCH program for internationally educated health professionals at the Dalla Lana School of Public Health at the University of Toronto. He is a co-founder, and program lead of the innovative Internationally Trained Physicians (ITPs) Clinical Public Health Certificate Program at the University of Toronto, which provides ITPs with training to transition into healthcare jobs. Dr. Bhuiyan is the Outgoing Chair, Board of Directors, Canadian Coalition for Global Health Research and currently serves on theInaugural Board of Directors of the newly created Canadian Association for Global Health. He is a winner of the Council of Agencies Serving South Asians Award for Civic Engagement and Leadership in Health and Education in Canada. Dr. Bhuiyan is a passionate Lion's Clubleader, served as Region Chair and District Chair Diabetes Awareness and Champion in Community Services, and currently serves as the Chair [August 2020- July 2022] of the Board of Directors BBNC, Scarborough Southwest, Toronto, Ontario.